Current Exhibitions
110th Annual Exhibition of Contemporary Art, Storytellers: Faith Ringgold + Aminah Robinson
October 1, 2021 – April 1, 2022
Storytellers: Faith Ringgold + Aminah Robinson is a two-artist exhibition featuring a mini survey of mixed media artworks by legendary African American female artists Faith Ringgold and Aminah Robinson. Storytelling has always been a powerful medium for communicating ideas, documenting history, and sharing knowledge with others. Ringgold and Robinson are visual storytellers who have a deep connection to the stories of their ancestors, both literal and figurative and share a passion for teaching us about our communities, our histories, ourselves, and the African American experience.  Storytellers: Faith Ringgold + Aminah Robinson is organized by ACA Galleries, New York. 
Storytellers: Faith Ringgold + Aminah Robinson is made possible by the support of Mary Gray Shockey, '69.
The 110th Annual Exhibition of Contemporary Art, Storytellers: Faith Ringgold + Aminah Robinson was made possible by the support of Mary Gray Shockey, '69.
Images: (Left) Aminah Robinson, Untitled: Water Street Series, 2000-2007, mixed media on paper, 48 x 19 in. Courtesy of ACA Gallery, New York. (Right) Faith Ringgold, The Sunflower Quilting Bee at Arles, 1997, ed. 101/425, silkscreen, 28 x 31 in. Courtesy of ACA Gallery, New York.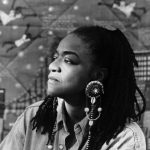 Faith Ringgold
Faith Ringgold, born 1930 in Harlem, New York is a painter, sculptor, teacher, activist and author of numerous award winning children's books. Ringgold received her B.S. and M.A. degrees in visual art from the City College of New York in 1955 and 1959. Professor Emeritus of Art at the University of California in San Diego, Faith Ringgold has received 23 Honorary Doctor of Fine Arts degrees.
Faith Ringgold is the recipient of more than 80 awards and honors including the John Simon Guggenheim Memorial Foundation Fellowship; two National Endowment for the Arts Awards; The American Academy of Arts and Letters Award and the Medal of Honor for Fine Arts from the National Arts Club.  In 2017 Faith Ringgold was elected as a member into the American Academy of Arts and Sciences in Boston, MA.
Ringgold's work is in the permanent collections of numerous museums in the United States and abroad including The Art Institute of Chicago, IL; The Baltimore Museum of Art, MD; The Boston Museum of Fine Art, MA; The High Museum, GA; The Metropolitan Museum of Art, NY; Museum of Modern Art, NY; Whitney Museum of American Art, NY; Solomon R. Guggenheim Museum, NY; The Brooklyn Museum, NY; The National Museum of American Art, Washington, DC; The Philadelphia Museum of Art, PA; The Studio Museum, NY; Glenstone Museum, MD and The Victoria and Albert Museum, London, England, among others.
Known for her oil paintings from the 1960s and Faith Ringgold's narrative painted story quilts, she created a body of work in the 1970s that reflected Ringgold's political activism and her personal story within the context of the women's movement. Faith Ringgold was one of a very small group of black women who helped galvanize the Black and Feminist Art Movements in New York in the 1970s.  This body of work, including tankas and soft sculptures, led to Faith Ringgold's painted story quilts.
 
Ringgold's first story quilt Who's Afraid of Aunt Jemima? was created in 1983 as a way of publishing her unedited words.  The addition of text to Ringgold's quilted paintings has developed into a unique medium and style all her own.
Tar Beach, Faith Ringgold's first children's book, has won over 20 awards including the Caldecott Honor and the Coretta Scott King award for the best-illustrated children's book of 1991. It was made into an animated short for HBO. The original painted story quilt, Tar Beach, is in the permanent collection of the Solomon R. Guggenheim Museum in New York City.
Faith Ringgold's artwork is featured on The Metropolitan Museum of Art's Timeline of Art History, a chronological, geographical and thematic exploration of the most important art from around the world.
In 2019 the Serpentine Gallery in London organized a traveling survey of Faith Ringgold's work. In conjunction with the exhibition BBC produced a full-length documentary, Faith Ringgold: Tell It Like It Is.
Faith Ringgold is as important to the overall culture of America as she is to the specifics of contemporary American art.  From her earliest breakthroughs during the turbulent decade of the 1960s and continuing into the new millennium, Faith Ringgold maintains her stature as a creative and cultural force.  She is a role model for artists and scholars and continues to influence and inspire others.
Faith Ringgold has been represented worldwide exclusively by ACA Galleries since 1995.
Reference: https://www.acagalleries.com/artist/Faith_Ringgold/biography/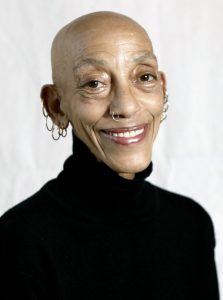 Aminah Robinson
Aminah Robinson (American, 1940-2015) is an instrument of memory, gathering stories, totems and fragments of the past to bring into the present and pass on to the future. Her art grows from her belief in the African concept of Sankofa, an understanding of the past so that we can learn from its richness, joys and mistakes. The materials for her drawings, paintings, sculptures and artist books are the materials of memory, often her own but also of others: buttons and cloth like those used by her mother; an amalgam her father called "Hogmawg" composed of animal grease, mud, glue, twigs, clay and other bits of everyday life; and discarded scraps from the lives of friends, neighbors and family. As these materials pass through Aminah Robinson's hands, they recombine into an art of extraordinary power.
Born Brenda Lynn Robinson in 1940, she grew up in a close-knit community in Columbus, Ohio, where family and neighbors shared life and stories. Among the most influential storytellers in Robinson's childhood was her elderly great-aunt Cordelia who had been born into slavery in Georgia. Cordelia knew the brutal lore of the Middle Passage from Africa and the experience of life as a slave. These stories were a continual influence on her work.
Aminah Robinson's parents encouraged their daughter's noticeable artistic talent. She attended Columbus Art School (now Columbus College of Art and Design) on Saturdays while still in high school, and after high school she continued her studies there. In 1958, while still attending Columbus Art School, Aminah Robinson worked at the city's public library, where she took the opportunity to read the history of Columbus' African American neighborhoods. These readings not only enriched her growing cache of stories, they prepared her for the struggles in the growing movement for African American civil rights. In 1963, Aminah Robinson joined with over two-hundred and fifty thousand other marchers for the historic March on Washington where Martin Luther King, Jr.'s "I Have a Dream" speech became permanently etched into the American consciousness.
After marriage, the birth of her son, the subsequent dissolution of marriage and jobs as an illustrator in Idaho and Mississippi, Aminah Robinson returned to Columbus in 1971 to seriously pursue her art. To make ends meet, she worked as an art instructor for the Beatty Recreation Center. But critical notice of her work began to come her way, and in 1979 the Ohio Arts Council awarded her a grant that enabled her to travel to Africa to observe the continent's cultures and study the sites of the slave trade. It was during this trip when Brenda Lynn Robinson became Aminah Brenda Lynn Robinson; the crowning name, meaning faithful, bestowed on her by a religious leader in Egypt.
 
Aminah Robinson returned to Columbus and her job at the recreation center, where she remained until 1990. By then, her artwork was providing enough income to pursue an artist's life full time.
Among the grants that enabled this transition was an award from the Ohio Arts Council to fund a residency at the Museum of Modern Art's P.S. 1, and a National Endowment for the Arts Fellowship, both in 1989. Exhibitions in galleries and museums followed, as did extended travel to New York City, Israel, Chile, Sapelo Island, Georgia, where her ancestors had been slaves, and again through Africa. Each trip resulted in a series of artworks based on Robinson's observations, emotions and each culture's lore of stories.
Aminah Robinson is now esteemed as a vital contributor to American art. Her work is actively collected and is represented in the Columbus Museum of Art, the Brooklyn Museum, the Newark Museum, among others. In 2002, Robinson was awarded an honorary Doctorate from Ohio Dominion University. In 2003, she was commissioned to create a monumental work for the National Underground Railroad Freedom Center in Cincinnati, which she completed in 2004. Also in 2004, Robinson was honored with a MacArthur Foundation Genius Grant, one of the highest honors awarded to the creative professions. In 2006, the Columbus Museum of Art organized a major retrospective, Symphonic Poem: The Art of Aminah Brenda Lynn Robinson. The exhibition traveled to the Brooklyn Museum, the Tacoma Art Museum and other venues across the country, and was accompanied by a 204 page book published by Abrams.
Reference: Symphonic Poems: The Art of Aminah Brenda Lynn Robinson. Abrams, Harry N., Inc., 2003

Beyond the Sound: In Memory of Sandra Whitehead 
Beyond the Sound features works from prominent American artists associated with Monhegan Island, Maine. All works are on loan from the Honorable Paul Whitehead, Jr. The exhibition includes paintings by James Fitzgerald, Jamie Wyeth, Sears Gallagher, Andrew Winter, Eric Hudson, Don Stone, Peter Poskas, and Guy Wiggins Carlton. 
The exhibition includes an interactive iPad kiosk developed by Emilie Bryant '22, a museum and heritage studies major. 
Saints and Sin: Selections from the Permanent Collection by Black Artists
Through April 1, 2022
Saints and Sin: Selections from the Permanent Collection by Black Artists includes work by Benny Andrews, Sam Gilliam, Jacob Lawrence, Toyin Odutola, Alison Saar, Betye Saar, and Carrie Mae Weems. A highlight of the exhibition is the new acquisition, Kehinde Wiley's St. Francis of Adelaide, 2006.
The exhibition is presented in unison with the amplification of the Black Lives Matter movement in the summer of 2020. It intends to provide a glimpse of the richness, variety and creative power of Black artists, underrepresented in museum collections, including our own. Formal purity and themes of innocence are intertwined with imagery laying bare the sin of systemic racism. Saints and Sin also includes recent acquisitions depicting Black artists.
Image: Kehinde Wiley, St. Francis of Adelaide, 2006, cast marble dust and resin. The Collection of the Maier Museum of Art at Randolph College.
Selections from the Permanent Collection
Ongoing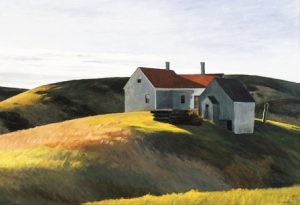 The Maier Museum of Art at Randolph College houses an outstanding collection of American art, chiefly paintings, works on paper, and photographs dating from the 19th, 20th, and 21st centuries. Explore this chronological exhibition of artwork from the permanent collection, including works by artists such as Milton Avery, Thomas Hart Benton, Mary Cassatt, William Merritt Chase, Edward Hopper, Jacob Lawrence, Georgia O'Keeffe, and more. Explore works on view >>
Image: Edward Hopper, Mrs. Scott's House, 1932, oil on canvas. Collection of the Maier Museum of Art at Randolph College.