Current Exhibitions
Modern and Contemporary Selections from the Permanent Collection
Through September 25, 2022
Modern and Contemporary Selections from the Permanent Collection, opened on April 27, 2022. In recognition of President Bradley Bateman's service to Randolph College, most of the selections are paintings, photographs and prints that hung in his home and office during his tenure at the College. A campus filled with original artwork has been a priority since the founding of Randolph-Macon Woman's College in 1891, and President Bateman has been an active participant in this tradition. He retires as the College's 10th president on June 30, 2022.
Image: Earlie Hudnall, Portrait of President Bradley W. Bateman, 2022, archival pigment print on paper, 30 x 40 in. Purchase made possible by current, former, and emeriti trustees and alumni led by June Rowan Bishop '48, Elizabeth Grimm '71, Allison Muller '71, and Anne Wilkes Tucker '67, and the Gignilliat Acquisition Fund, 2022.
New Acquisitions 2022
Through September 25, 2022
Image: Derrick Woods-Morrow, Frederick on Lake Pontchartrain | after Lincoln Beach, 2019, archival print on paper, 40 x 30 in. Purchase made possible by the Elson Acquisition Fund, 2021.
Beyond the Sound: In Memory of Sandra Whitehead 
Beyond the Sound features works from prominent American artists associated with Monhegan Island, Maine. All works are on loan from the Honorable Paul Whitehead, Jr. The exhibition includes paintings by James Fitzgerald, Jamie Wyeth, Sears Gallagher, Andrew Winter, Eric Hudson, Don Stone, Peter Poskas, and Guy Wiggins Carlton.
The exhibition includes an interactive iPad kiosk developed by Emilie Bryant '22, a museum and heritage studies major.
Selections from the Permanent Collection
Ongoing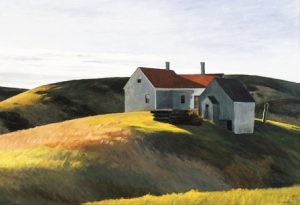 The Maier Museum of Art at Randolph College houses an outstanding collection of American art, chiefly paintings, works on paper, and photographs dating from the 19th, 20th, and 21st centuries. Explore this chronological exhibition of artwork from the permanent collection, including works by artists such as Milton Avery, Thomas Hart Benton, Mary Cassatt, William Merritt Chase, Edward Hopper, Jacob Lawrence, Georgia O'Keeffe, and more. Explore works on view >>
Image: Edward Hopper, Mrs. Scott's House, 1932, oil on canvas. Collection of the Maier Museum of Art at Randolph College.