Current Exhibitions
Recent Acquisitions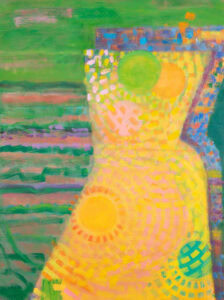 Image: Kayla Mohammadi, Heat of the Day, 2018, oil and acrylic on panel, Gift in honor of Mary Gray Shockey '69.
On view June 2 through December 17, 2023. This exhibition highlights a selection of works added to the permanent collection within the past five years. Primarily featuring paintings, photographs, and prints, Recent Acquisitions also showcases a ceramic piece, Convergence: Spirit World Army, 2022 by Virgil Ortiz (Cochiti Pueblo), acquired from our 111th Annual Exhibition.
The Matrix: Prints from the Permanent Collection

On view May 5 through September 27, 2023. What is printmaking? As an artistic process, it is based on the principle of transferring images from a matrix onto another surface, most often paper or fabric. Traditional printmaking techniques include woodcut, etching, engraving, lithography, and screen printing. The matrix is the printing plate or silkscreen where the magic originates. The Matrix: Prints from the Permanent Collection, guest curated by Jill Jensen, features over 40 fine prints from the permanent collection with exquisite examples of every technique. Artists include Jack Beal, George Bellows, Richard Bosman, Alexander Calder, Salvador Dali, Tara Donovan, Sam Gilliam, Brice Marden, Allison Saar, Art Spiegelman, May Stevens, and Grant Wood.
Beyond the Sound: In Memory of Sandra Whitehead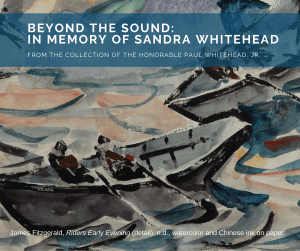 Beyond the Sound features works from prominent American artists associated with Monhegan Island, Maine. All works are on loan from the collection of The Honorable Paul Whitehead, Jr. The exhibition includes paintings by James Fitzgerald, Jamie Wyeth, Sears Gallagher, Andrew Winter, Eric Hudson, Don Stone, Peter Poskas, and Guy Wiggins Carlton.
The exhibition includes an interactive iPad kiosk developed by Emilie Bryant '22.
Selections from the Permanent Collection
Ongoing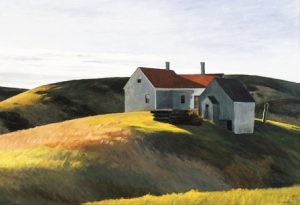 The Maier Museum of Art at Randolph College houses an outstanding collection of American art, chiefly paintings, works on paper, and photographs dating from the 19th, 20th, and 21st centuries. Explore this chronological exhibition of artwork from the permanent collection, including works by artists such as Milton Avery, Thomas Hart Benton, Mary Cassatt, William Merritt Chase, Edward Hopper, Jacob Lawrence, Georgia O'Keeffe, and more. Explore works on view >>
Image: Edward Hopper, Mrs. Scott's House, 1932, oil on canvas. Collection of the Maier Museum of Art at Randolph College.