Current Exhibitions
The 111th Annual Exhibition, Survivance: Contemporary Native Art
October 21, 2022 – April 16, 2023
The 111th Annual Exhibition, Survivance, features contemporary Native art of the Southwest. The first "Annual" opened at the College in 1911 and the tradition has continued, uninterrupted. It is one of the longest-running series of original exhibitions of contemporary art staged annually by any academic institution in the U.S. While our mission is devoted to the study, collection and exhibition of American art, none of our Annuals have focused on Native American artists, and only a handful are represented in our collection.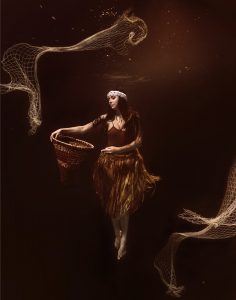 2022 marks the centennial of The Santa Fe Indian Market, widely considered the most recognized and influential event in the Native American art world of the 20th and 21st centuries. The history of the Market is fraught, problematic and rich with controversy. Paradoxically, it has also been empowering, community building, and undeniably important, especially in its current iteration, one hundred years later. Museum and heritage studies major, Emilie Bryant '22, engaged with the New Mexico History Museum in a virtual internship during the summer of 2021. Her task was to research the Santa Fe Indian Market and develop an interactive timeline to celebrate the Market's centennial. Survivance features artists with roots in/connections to the Santa Fe Indian Market tradition and more generally in the creative output of the region. Their work is a blend of ancestral legacy, individual expression, and contemporary innovations. Artists include Cara Romero, Diego Romero, Michael Namingha, and Virgil Ortiz.
The 111th Annual Exhibition, Survivance, is co-curated by Emilie Bryant and Martha Kjeseth Johnson, and is made possible by the support of Mary Gray Shockey, '69.

Image (top): Cara Romero, Weshoyot, 2021, limited edition archival fine art photograph printed by the artist on Legacy Matte paper, 51 x 40 in.
Image (bottom): Cara Romero, Evolvers, 2019, limited edition archival fine art photograph printed by the artist on Legacy Platine paper, 15 x 48 in.
Beyond the Sound: In Memory of Sandra Whitehead 
Beyond the Sound features works from prominent American artists associated with Monhegan Island, Maine. All works are on loan from the collection of The Honorable Paul Whitehead, Jr. The exhibition includes paintings by James Fitzgerald, Jamie Wyeth, Sears Gallagher, Andrew Winter, Eric Hudson, Don Stone, Peter Poskas, and Guy Wiggins Carlton.
The exhibition includes an interactive iPad kiosk developed by Emilie Bryant '22.
Selections from the Permanent Collection
Ongoing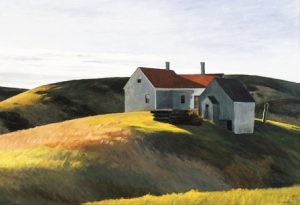 The Maier Museum of Art at Randolph College houses an outstanding collection of American art, chiefly paintings, works on paper, and photographs dating from the 19th, 20th, and 21st centuries. Explore this chronological exhibition of artwork from the permanent collection, including works by artists such as Milton Avery, Thomas Hart Benton, Mary Cassatt, William Merritt Chase, Edward Hopper, Jacob Lawrence, Georgia O'Keeffe, and more. Explore works on view >>
Image: Edward Hopper, Mrs. Scott's House, 1932, oil on canvas. Collection of the Maier Museum of Art at Randolph College.