Randolph College Resources
Student Opportunities
The Maier Museum of Art functions as an extension of the classroom. Faculty across Randolph's liberal arts curriculum regularly conduct class discussions and activities in the galleries, and utilize the Collection to develop assignments that support and expand course content.
The Maier provides an invaluable resource for the department of art and art history. In addition to having direct experience with original works of art from the Museum's outstanding collection of American Art, students engage with contemporary artists and scholars who visit campus each semester to offer artist talks, public lectures, and participate in The Helen Clark Berlind Symposium, now in its 25th year.  The senior capstone program culminates in a formal show of studio majors' work at the Maier and a presentation of research by art history majors.
The Museum and Heritage Studies major is a distinctively interdisciplinary program that introduces students to a rich variety of approaches for presenting and studying visual and material culture. The program is designed for a broad range of students in the arts, humanities and social and natural sciences.
Majors take core courses in museum and heritage studies, and select from supporting courses in several departments. Courses in the major encourage the development of fresh perspectives and practical skills, and are taught primarily by museum professionals at Randolph College and its faculty in archaeology, art history, biology and history who have developed a special interest in tangible cultural heritage.
The major includes a senior program featuring an exhibition broadly defined, designed and executed by each major. The program is based on Randolph College's world-class Maier Museum of Art and the College's notable natural history and archaeology collections, and has a strong commitment to hands-on, experiential learning in and out of the classroom.
Museum Studies Minor
The museum studies minor provides students with an understanding of the role of museums in society and the range of career possibilities within the museum field. The collection and staff of the Maier Museum of Art are integral to the program with students working directly with art objects and learning from professionals. Recent practicums have introduced students to exhibition development and installation, curatorial research, professional registration practices, and the theory and practice of museum education.
The Maier Museum of Art offers internship opportunities for college credit to Randolph College students. The Maier Museum of Art internships encourages students to consider museum careers by providing opportunities to learn about aspects of museum operation, to work on meaningful projects under the guidance of experienced professionals, and to develop relationships with individuals who can advise and support the intern as he or she pursues his or her educational goals and career plans.
For-Credit Internship Opportunities >>
Summer Internship Opportunities >>
Each year, one to two Randolph College students are selected for an 10-week (25 hours/week) paid, summer internship to be completed at the Maier Museum of Art for a stipend of $2,500 each. This opportunity is extended to all rising sophomores, juniors, and seniors enrolled at Randolph College and is funded by Maier Memberships at the Benefactor level.
Read blog posts by the Maier's current and past summer interns at: My Summer Internship at the Maier Museum of Art at Randolph College >
In addition to internships at the Maier, Randolph College's and the Maier's relationship with local and national institutions has resulted in experiential learning in arts management, historic preservation, museum education, and art conservation.
The Maier Museum of Art typically offers two work-study positions for Randolph College students during the academic year. Work-study assistants help the Maier staff with various museum projects and office assignments as needed. They are also assist with programs and events on nights/weekends and/or fill front desk receptionist shifts on weekends. Projects work-study assistants may works on include preparing materials for educational programs, developing marketing materials, posting flyers on campus, and working with the museum's files and Collection, such as researching artwork/artists and writing wall labels.
Work-study assistants must have strong research, writing, and computer skills. While preference is given to students majoring in art history, museum and heritage studies, studio art, history, or education, students from all majors are encouraged to apply for the positions when they are available.
Pay ranges from $7.25 – $7.55/hour and the work schedule is typically four hours/week (preferably two hour shifts, twice per week).
FRAME
Future Restorationists, Artists, and Museum Enthusiasts (FRAME) is a student volunteer organization that is advised by the Maier's Curator of Education. Through the club, students broaden their knowledge of art and art history, explore the field of museum education, and strengthen communication skills.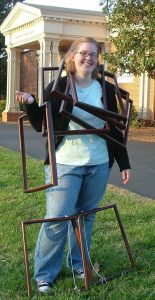 Love at the Maier, an annual celebration of art and artists inspired by Valentine's Day, is facilitated by FRAME members. This two-day program is a community-wide favorite.
FRAME members are student ambassadors for the Maier. In this role, they develop and facilitate participatory art experiences on campus and at the Museum that connect with the artists, themes, and/or media present in the permanent collection and special exhibitions.  In addition, FRAME members periodically lead tours and gallery discussions, and provide art activities for local community after-school programs.
FRAME also frequents local art openings and cultural events, and has recently begun an initiative to develop a student-run gallery space. While many of the members are art majors, others are not. FRAME gives students who love art great opportunities to be involved at the Maier without the academic commitment of a major.
Helen Owen Calvert Award
The Helen Owen Calvert Award is held every spring semester and recognizes excellence in writing that responds to or interprets works of art in the Maier Museum of Art collection. Each year, Randolph students are invited to submit creative or academic compositions of any type to be considered for this award. The award was established in memory of Helen Owen Calvert, by her family. Mrs. Calvert was a graduate of Randolph-Macon Woman's College and the mother of one of the Maier Museum's former curators of education, Doni Guggenheimer. Learn more >
Faculty Resources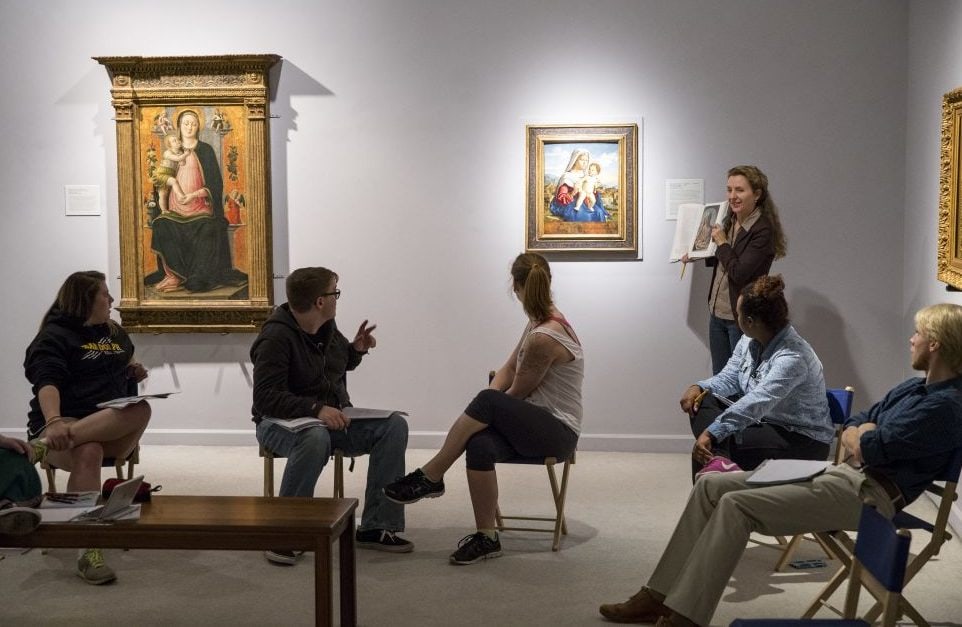 The Curator of Education works one-on-one with faculty to design tours of the permanent collection, special exhibitions, or works in storage currently not on view. Tours of works of art displayed across the Randolph College campus buildings can also be developed. In addition, activities and research opportunities that complement course curricula can be developed in collaboration with the Maier. Schedule a tour >>
The Maier Museum of Art is not just for Randolph College faculty and students! Our collection is also available for faculty from neighboring institutions to utilize as an extension of the classroom.
More ways to utilize the Maier Museum of Art >>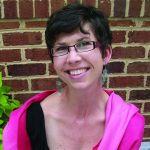 To discuss the possibilities for your classes or research, contact:
Curator of Education
Laura McManus
lmcmanus@randolphcollege.edu
(434) 947-8136, ext. 5
Campus Loan Program for Faculty and Staff
Works of art from the College's
campus collection
are available for request by faculty and staff for offices and buildings on campus. Please note:
At least five business days are required for processing and scheduling requests.

Some works may require additional time for framing and matting or may not be available or suitable for display.
Requests will not be completed during the two weeks before an exhibition opening or for two weeks after the closing of an exhibition. Current exhibition dates >>
Once installed, artwork must remain in place for at least one year.

If artwork needs to be moved immediately due to potential damage, to report artwork damage, or if you have questions about the Campus Art Loan Program, please contact:
Maier Museum of Art Registrar
Debbie Spanich
dspanich@randolphcollege.edu
Campus ext. 4265