Fall Film Screenings
Held in conjunction with the 107th Annual Exhibition of Contemporary Art, Zeitgeist: The Art Scene of Teenage Basquiat.
All screenings below are free and include refreshments and a cash bar (beer/wine) and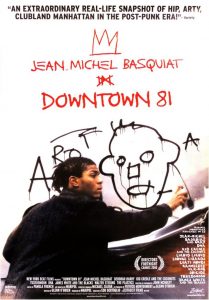 Tuesday, October 2, 7 p.m.
DOWNTOWN 81
By Edo Bertoglio (1981, 72 min)
Starring the legendary American painter, graffiti artist, poet and musician Jean-Michel Basquiat (1960-1988), DOWNTOWN 81 is both a post-modernist fairytale and a vivid depiction of the downtown New York art and music scene in the early 1980s. The film chronicles a day in the life of a 19 year-old starving artist (Basquiat) who must raise money to reclaim the apartment from which he has been evicted. Hoping to sell a painting to earn the rent, he wanders the downtown streets, painting in hand, encountering painters, models, junkies, graffiti artists, rappers and rockers whose lives and performances provide a slice of life from one of the most exciting periods in American culture.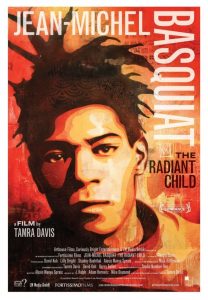 Tuesday, October 9, 7 p.m.
JEAN-MICHEL BASQUIAT: THE RADIANT CHILD
By Tamra Davis (2010, 93 min)
Director Tamra Davis pays homage to her friend in this definitive documentary, but also delves into Basquiat as an iconoclast. His dense, bebop-influenced neoexpressionist work emerged while minimalist, conceptual art was the fad; as a successful black artist, he was constantly confronted by racism and misconceptions. The film features interviews with Julian Schnabel, Larry Gagosian, Bruno Bischofberger, Tony Shafrazi, Fab 5 Freddy, Jeffrey Deitch, Glenn O'Brien, Maripol, Kai Eric, Nicholas Taylor, Fred Hoffmann, Michael Holman, Diego Cortez, Annina Nosei, Suzanne Mallouk, and Rene Ricard, among many others.
"THE RADIANT CHILD might make you weep (it did me) and might help you better appreciate a painter whose work matters enormously in the history of late-twentieth-century art." –Amy Taubin, ARTFORUM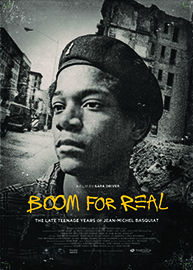 Saturday, October 20, 7 p.m.
BOOM! FOR REAL: THE LATE TEENAGE YEARS OF JEAN-MICHEL BASQUIAT
Introduction to the film and post-screening discussion by the film's director, Sara Driver '77
Boom for Real follows Basquiat's life pre-fame and how New York City, the times, the people and the movements surrounding him formed the artist he became. Using never-before-seen works, writings and photographs, director Sara Driver '77, who was part of the New York arts scene herself, worked closely and collaboratively with friends and other artists who emerged from that period: Jim Jarmusch, James Nares, Fab Five Freddy, Glenn O'Brien, Kenny Scharf, Lee Quinones, Patricia Field, Luc Sante and many others. Drawing upon their memories and anecdotes, the film also uses period film footage, music and images to visually re-recreate the era, drawing a portrait of Jean-Michel and Downtown New York City -pre AIDS, President Reagan, the real estate and art booms – before anyone was motivated by money and ambition. The definition of fame, success and power were very different than today – to be a penniless but published poet was the height of success, until everything changed in the early 1980s. This is New York City's story before that change.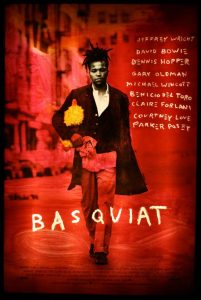 Tuesday, October 23, 7 p.m.
BASQUIAT
By Julian Schnabel (1996, 108 min)
A biopic of a major artistic figure of the NYC art scene of the 1980s, made by another major figure of that same moment, BASQUIAT was the directorial debut of painter Julian Schnabel. BASQUIAT tells the story of the meteoric rise of youthful artist Jean Michel Basquiat. Starting out as a street artist, living in Thompkins Square Park in a cardboard box, Basquiat becomes a star and a part of Andy Warhol's art world circle. But success has a price, and Basquiat pays with friendships, love, and eventually, his life. Performances by Jeffrey Wright, Gary Oldman, Benicio Del Toro, Dennis Hopper, Courtney Love, Parker Posey, Willem Dafoe, Christopher Walken, and David Bowie.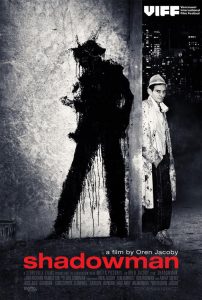 Tuesday, October 30, 7 p.m.
Postponed until Thursday, Nov. 15, 7 p.m. in an effort to encourage the Randolph College and local community to attend the
Vigil for Pittsburgh at Agudath Sholom (2055 Langhorne Road) at 7 p.m. on Oct. 30.
SHADOWMAN
By Oren Jacoby (2017, 82 minutes)
In the 1980s, Richard Hambleton was the Shadowman, a specter in the night who painted hundreds of startling silhouettes on the walls of lower Manhattan and, along with Keith Haring and Jean-Michel Basquiat, sparked the street art movement. Oren Jacoby's SHADOWMAN plunges the viewer into the chaotic life of a forgotten artist, from early fame as a painter and denizen of the Lower East Side, through his struggles with heroin, to his surprising comeback as street art exploded to become one of the most popular and lucrative art movements in the world. Before Banksy, there was Hambleton.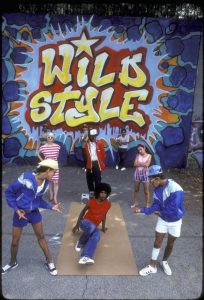 Saturday, November 10, 7 p.m.
Film and Dance Party!
WILD STYLE
By Charlie Ahearn (1983, 82 min)
Charlie Ahearn's seminal WILD STYLE is a loosely-scripted narrative film that also functions as an invaluable glimpse into the graffiti and hip hop cultures, showcasing the art and music of legends such as Fab 5 Freddy and graffiti artist Lee Quinones. Its story follows the exploits of maverick tagger Zoro (Quinones), whose work attracts the attention of an East Village art fancier (Patti Astor) who commissions him to paint the stage for a giant Rapper's Convention, and features additional appearances from Grandmaster Flash, Busy Bee, The Cold Crush Brothers, and more.
Following the screening of Wild Style, stick around for a 1980s dance party in the Museum with black lights, a DJ, cash bar (beer/wine) and refreshments! So break out your leg warmers and get ready to dance 80s style

This series of film screenings is generously supported by Maier Member Alison Keller Townsend '75.