Quarantine Public Library at the Maier Museum
The Quarantine Public Library (QPL) is a collaborative project by Katie Garth and Tracy Honn. This repository of one-page books made by artists is published online for anyone to freely download, print and assemble—to keep or give away. The QPL titles transform from a printed piece of paper into a book through folding.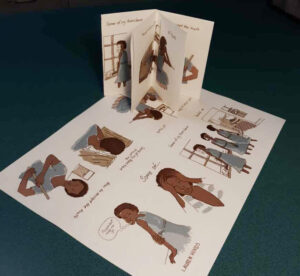 Martha Chiplis, curator of the 112th Annual exhibition, Back to Front: Artists' Books by Women chose 100 titles by women in the QPL to be displayed at the museum as part of the exhibition, and the Randolph College student club FRAME is assisting Chiplis in the planning and implementation the QPL installation.
Randolph College students and other members of our community can participate in the creation and installation of the 112th Annual Exhibition through the process of assembling the QPL books.
We hope that the QPL display will expand during the run of the Annual exhibition, and that our students will have a major role in all aspects of it. After the opening of the 112th Annual Exhibition on October 22, 2023, people are invited to add to the QPL installation by leaving their own books in the format of the QPL one-page books. Copies of the one-page book template are available at the museum or you can download:
Download one-page book template for printing: PaginationGuide_QPL
Folding Tutorial: https://www.quarantinepubliclibrary.com/tutorial