The 106th Annual Exhibition of Contemporary Art: "Carceral States"
September 22 – December 15, 2017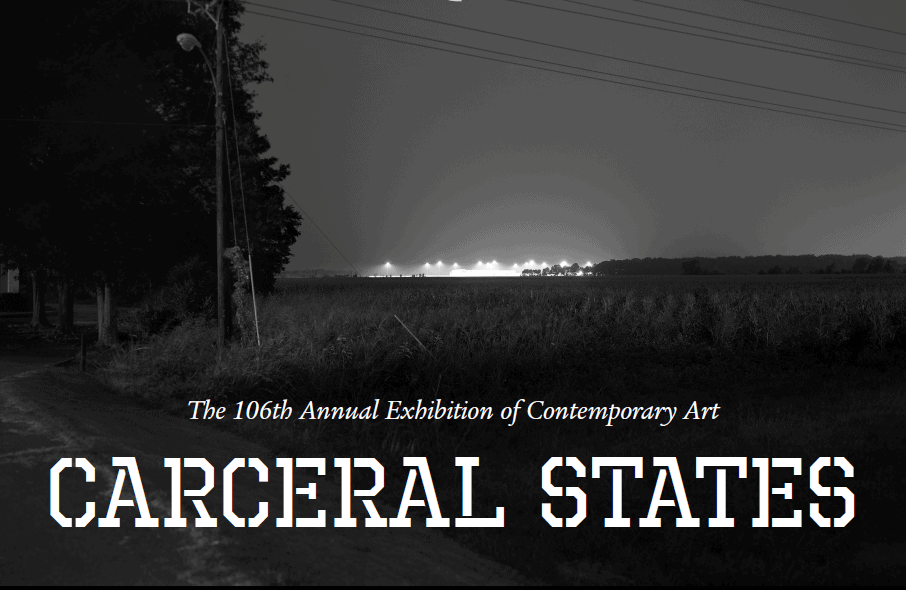 The 106th Annual Exhibition of Contemporary Art: Carceral States focuses on our growing national debate about mass incarceration in America, approaching the theme from a breadth of perspectives by a number of important contemporary American artists. Included in the exhibition will be both documentary and landscape photography, oil painting, and sculpture. Carceral States offers the directness of the photo-journalist tradition as well as more aesthetically-centered works which have meaningful things to say about incarceration in ways that are uncovered gradually. Artists include Maria Gaspar, Duron Jackson, Mansura Khanam, Mark Strandquist, Stephen Tourlentes, and Treacy Ziegler.
Carceral States also includes the installation, Women of York: "Shared Dining." In 2013, a group of ten women incarcerated at York Correctional Institution in Connecticut, calling themselves "Women of York," created this work of art inspired by Judy Chicago's iconic feminist masterpiece, The Dinner Party. "Shared Dining" includes six entry banners and ten place settings arranged on a triangular table, each dedicated to a woman of personal significance to the artist. The members of Women of York responded to the limitations of making work within a correctional institution by repurposing materials from their everyday lives, including plastic cutlery, paper plates, and Styrofoam cups.
"Shared Dining" uses individual stories to raise questions about politics, gender, and incarceration and in 2015 was installed alongside The Dinner Party at the Brooklyn Museum where Chicago's work is on permanent display. It is especially impactful to host this project in light of Randolph College's 115 year history as a women's college, and its ongoing commitment to issues of gender and justice.
Image: Stephen Tourlentes, Yazoo City, Mississippi, Federal Prison, 2007, archival pigment print. Courtesy of artist and Carroll and Sons Art Gallery.
This exhibition is made possible through the generosity of Mary Gray Shockey '69.
Related Events
Opening Reception |  Friday, September 22, 5 to 7 p.m.
Spotlight Tour: Women of York: "Shared Dining"  |  Sunday, October 1, 2 p.m.
Randolph Community Art Project: Plates of Honor  |  Sunday, October 1, 2:30 p.m.
The 26th Annual Helen Clark Berlind Symposium  |  October 20-22
Spotlight Tour: "Of Length and Measures" Series by Stephen Tourtlentes  |  Sunday, November 5, 2:00 p.m.
Family Workshop: Installation Art  |  Sunday, November 12, 2:00 pm – 4:00 pm
Spotlight Tour: Works by Traecy Ziegler  |  Sunday, December 3, 2:00 p.m.