"New Winters" by Luigi Coppola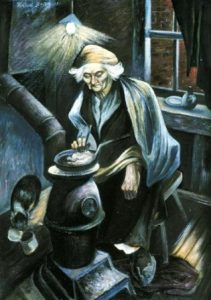 Each night for forty years, he'd come straight home,
and set the thermostat to eighty-eight.
While taking off his coat, he'd turn the chrome,
and wait for all the warmth to circulate
round corners of the house that weren't that cold,
or so I thought. See, I was wrong, knew shit
about… well, anything. So I'd be told
off, shown the truth. "You silly woman, sit
down and just shut the hell up." Now I'm meant
to set the timer on this new machine
as if the future's known – more to resent.
He never tolerated one extreme,
would simply go and change the facts while I
would warm up to the cold, and to the lie.
First published Dec 2012, Other Poetry
Luigi Coppola (www.luigicoppolapoetry.blogspot.co.uk) teaches and writes in London, England. Shortlisted for the Bridport Prize twice, he appeared in the Worple Press anthology 'The Tree Line' and publications include Acumen, The Frogmore Papers, The High Window, Ink, Sweat and Tears, Iota, Magma, Orbis, Neon, Rattle, The Rialto, THE SHOp and Snakeskin.